Pressure Reducing Valve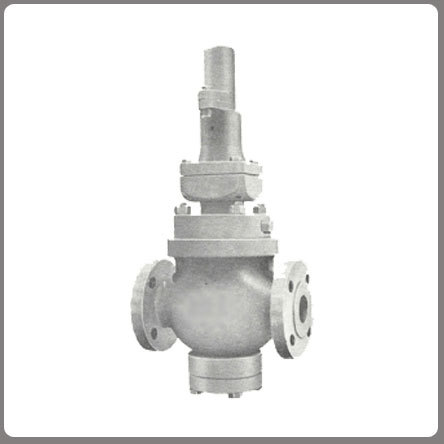 Pressure Reducing Valve
Product Description
Pressure reducing valve simply opens by applying spring pressure to a diaphragm. The outlet pressure from it pushes the diaphragm upward at the bottom of the diaphragm, closing the valve. The spring pressure takes over and pushes the valve stem downward, allowing the valve to open when the outlet pressure drops below the valve's set point. The pressure beneath the diaphragm starts to outweigh spring pressure as the outlet pressure rises and approaches the required pressure, driving the valve stem upward and closing the valve. Under specific circumstances, pressure reducing valves can be used to prevent water hammer.
We are Manufacture of Pressure Reducing Valve
Type parameter

Self acting direct acting


Pilot and diaphragm

Control valve with roboter (self acting)

Control valve with positioner
(pid controlled)

Steady load suitability


Yes

Yes

Yes

Yes

Accuracy

Upto 25% varitation under fluctuating load


0.2bar variation under

max to min load

0.1bar

0.05 bar

Turn down

10.1

15:1to12:1

40:1

40:1

Requirement of water pot

Requirement for steam above140C


Not required

Not required

Not required

General suitability

suitability for small steady loads

Suitable for fluctuating small to medium loads

Suitable for fluctuating medium to heavy loads

suitable for fluctuating heavy loads requiring precise pressure

Design

Old design superior only to simple manual globe valve. Cannot take load fluctuaions water pot makes the entire installation extremely vulnerable.

Extremely proven design. Spirax DP143 &DP13 are synonymous with pressure reduction in steam
maintenance friendly, reliable, easy to own& operate.


Engineered & designed using computational fluid dynamics specifically for use on steam applications. Eliminates electronic pressure control loop but offers advantages of a control valve.

Contemporary design undergoing continuous improvement. Can be tailormade, for low noise, SS &alloy steel construction. Leakage class v can be provided. Modular construction.
Contact Us
Vill-Arupara, Post Office - G.I.P. Colony, Howrah, West Bengal, 711112, India
Phone :+918037303867